Skye Blue is an American porn actress, adult model, femdom and director.
She was born on July 30, 1961, in Morristown, New Jersey, USA. She is a platinum blonde (or blue) goddess, 162 cm tall, thin. She has nice big 36F size tits and piercings in her nipples.
Early years
She started dancing in 1988 at the Palomino Club in Las Vegas. She was also a DJ and lighting technician. She participated in a dance competition and won it. So she stepped from the background on the stage.
Career
She attended the first AVN Show in 1991 and met several nice and sexy people who worked in the adult industry. Skye's first video was Love & The Dancer Too, and then she made several other adult films. She met and worked with Summer Cummings porn actress. They made more than 250 porn movies together. They did everything to be as wild and perverted as possible! They were the so-called Breast Wishes duo.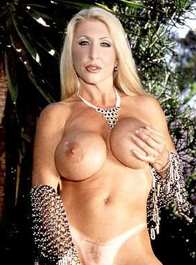 But Skye also starred in mainstream movies. For example, she also appeared in Paul Thomas Anderson's very well-received and highly successful 1997 film, Boogie Nights.
Skye is also a writer, producer, art director and physical fitness expert.
She is a pro in solo and lesbian scenes, as well as bondage
Skye Blue in private
Skye enjoys ice skating, rollerblading, shopping, motorcycling. She loves fitness and loves to walk with her dog. These activities are the relaxation for her.
She is the president and CEO of the porn production company Platinum Blue Productions. Sky is member of the AVN Hall of Fame since 2008.